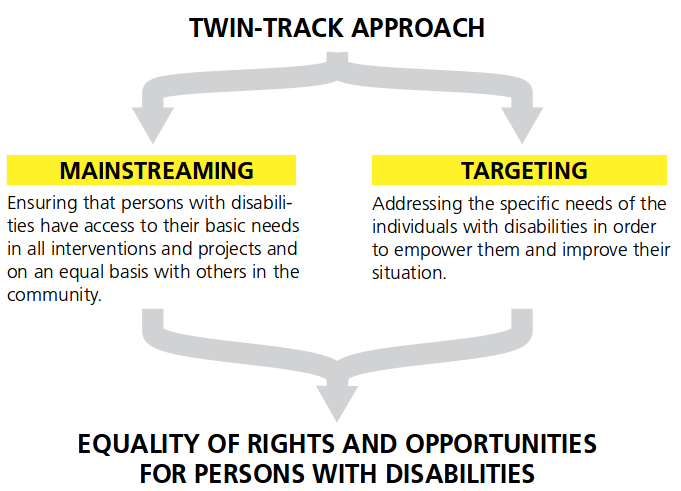 The twin-track approach, which is commonly used for advancing rights of marginalised populations, is also applied when promoting disability-inclusive humanitarian action. 
Mainstreaming disability into humanitarian action might require specialised expertise but most important is the awareness, the understanding among organisations that all members of the community have the capacity to be involved in the response and have the same basic needs of protection and relief, including persons with disabilities. In parallel, some specific adaptations and accessibility measures have to be put in place during the planning, implementation and monitoring of the emergency intervention to ensure access to relief and services for persons with disabilities. 
Applying a twin-track approach means ensuring women, men, boys and girls all types of disability (physical, intellectual, psychosocial) have full access to relief operations and protection by removing barriers and facilitating access, and at the same time, providing specific solutions and individualised support for persons with higher dependency needs in the emergency phase. Regardless of whether it is part of a mainstream approach or specific intervention, consideration needs to be given to how gender intersects with disability. 
This could be for example support of volunteers to bring food rations and non-food items, additional nutrition rations, medical or rehabilitation services, and assistive devices. Here, collaboration with and referral to disabled people's organisations and disability-specific organisations is essential.