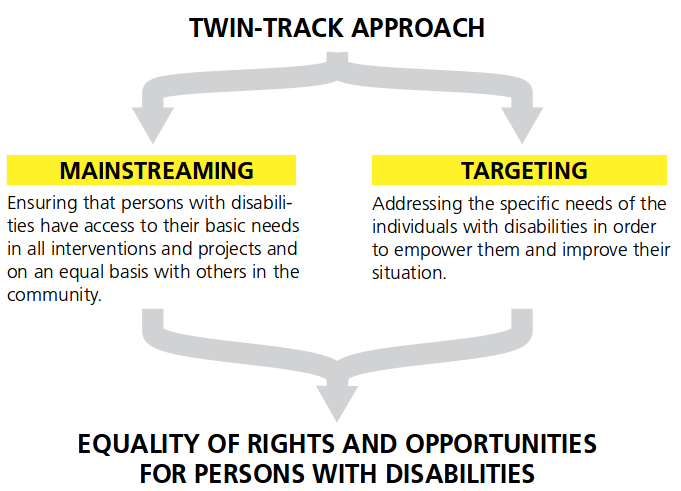 The twin-track approach, which is commonly used for advancing rights of marginalised populations, is also applied when promoting disability-inclusive humanitarian action. 
Mainstreaming disability into humanitarian action might require specialised expertise but most important is the awareness, the understanding among organisations that all members of the community have the capacity to be involved in the response and have the same basic needs of protection and relief, including persons with disabilities. In parallel, some specific adaptations and accessibility measures have to be put in place during the planning, implementation and monitoring of the emergency intervention to ensure access to relief and services for persons with disabilities. 
Applying a twin-track approach means ensuring women, men, boys and girls with all types of impairments, being hearing or visual impairment, physical impairments or cognitive impairment, as well as intellectual or learning disabilities have full access to relief operations and protection by removing barriers and facilitating access. At the same time, humanitarian actors have to provide specific solutions and individualised support for  adults and children, particularly those who may have higher support needs, always with the principle of informed consent, choice and autonomy of the person. Here, collaboration with and referral to disabled people's organisations and disability-specific organisations is essential.
Examples of support services could be:
Assistive devices and technology
Specific rehabilitation interventions and support to families, personal assistants and caregivers
Targeted pedagogic support to facilitate access to school. Hiring expertise, or referring to speech therapists, psychologists, special educators, etc.). Supportive lessons.
Early identification and early intervention programs for children with disabilities and support to families,
Ensuring extra allowance for transportation or additional health care needs for families with a member having a disability.
Peer to peer support or organising self-help groups to support empowerment and coping strategies.
Regardless of whether it is part of a mainstream approach or specific intervention, consideration needs to be given to how gender intersects with disability.