Simple shower or bathing arrangements will ensure that persons with disabilities can manage their hygiene with dignity and provide them more independence. In camps setting, during first emergency, some simple adaptations and devices can be helpful before proper washrooms are built. 
Old tyres could be recycled (make sure they are well cleaned) to help persons having difficult balance or stand to sit while having shower. Tie two tyres together for the person to sit on and adjust a rope and jerry can system for the shower;
A four-litre jerry can has 10 holes near the top for the water to pour out. Support from the family would be still needed to fill the jerry can, but this is probably less time-consuming than helping the person bathe and ensures the person more dignity.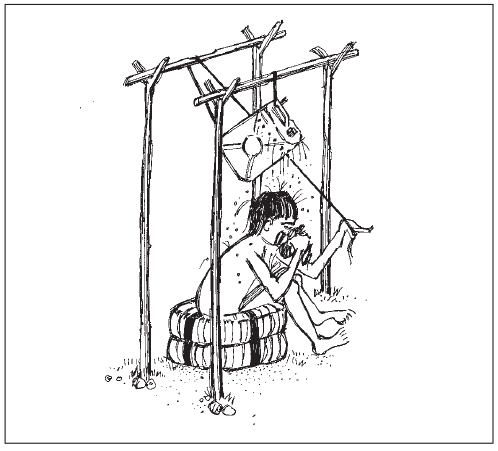 Privacy, safety and dignity are priorities for any user of hygiene facilities. Ensure that:
Holes for light in and ventilation are placed high enough to avoid someone looking in from outside;
Doors have accessible locks;
Locks and handles need to be fixed at 60 cm from the floor to be usable by everyone, with an easy-to-grasp lock. A pulling-rope system could be also made, attaching a rope to the door and treading through a hook. The person pulls the string to close the door and ties the end to the handrail;
If hand washing is provided via a tap, it should be adapted to suit persons with disabilities.
Separate accessible showers for females and males are essential to ensure safety, protection and dignity, especially to women and girls with disabilities. Clear signage will help to identify the right facility.
Men and women, as well as boys and girls with disabilities should equally be consulted about their specific needs and priorities, prior to the design of all WASH facilities. Single-sex consultations (focus group or other) could be carried out where most appropriate.